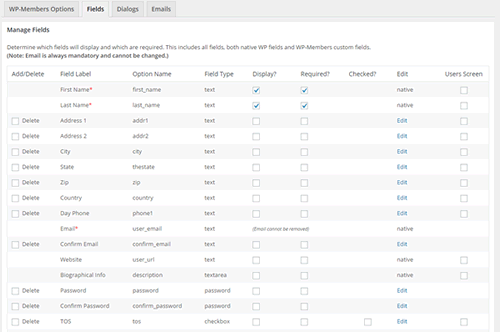 This settings screen allows the administrator to establish what fields are displayed in the registration form and which fields are required.
Check "Display" for which fields you want displayed in the registration form. Any fields not selected to display are admin use only.
Check "Required" for whether entering data for this field is required or not.
Fields loaded into an array in the WP Options table at plugin install. [See Choosing Fields for information on how add/delete fields and change the field order]
The following fields load into the plugin at install:
First Name (meta_key: first_name, WP native field)
Last Name (meta_key: last_name, WP native field)
Address 1 (meta_key: addr1)
Address 2 (meta_key: addr2)
City (meta_key: city)
State (meta_key: thestate)
Zip (meta_key: zip)
Country (meta_key: country)
Day Phone (meta_key: phone1)
Email (wp_users field: user_email, WP native field)
Confirm Email (not stored)
Web site (wp_users field: user_url, WP native field)
Biographical Info (meta_key: description, WP native field)
Password (wp_users field: user_pass, WP native field, hashed)
Confirm Password (not stored)
TOS (meta_key: tos, stored value: "agree")
None of these fields are mandatory except for Email.  You may select which fields are used for registration by selecting "Display".  Any fields not selected to display are admin use only.  Any field may be selected as a required field.
Field order can be changed by drag-and-drop.  Simply select the field you want to move and drag it a new location in the table order.
You may remove/delete any fields that are not used.  You may add any custom fields you want by using the Add Field form.  Existing fields can be edited, with the exception of WP native fields. Any field that is editable will have an edit link in the last column.
WP Native Fields indicates which fields are part of WordPress® and are therefore already part of the User Detail Page.  The data for any non-native fields will be found at the bottom of the user profile page under the heading "WP-Members Additional Fields"
Selecting "User Screen" will add a column for the field in the User Screen (Users > All Users).
Supported field types for form fields are:
text
email
textarea
checkbox
multiple checkbox
select
select multiple
radio
password
image
file
url
hidden
number