This is a plugin extension for WP-Members that allows you to link a membership in WP-Members to a WooCommerce product.  This allows you to easily sell membership content/products through WooCommerce while managing content restriction through WP-Members.
This documentation will focus on the plugin extension. See the WP-Members documentation for information on using Membership Products in WP-Members.
The WP-Members Memberships for WooCommerce plugin is available individually, or with a Pro Bundle subscription.
WooCommerce Prerequisites

Assigning a membership to a user requires that we have a user to assign that access to. Guest checkout should be disabled in your WooCommerce settings.
To disable guest checkout, go to WooCommerce > Settings and select the Accounts & Privacy tab.  Uncheck "Allow customers to place orders without an account."
Note that the other Guest Checkout and Account Creation settings are optional. However, allowing guests to log in during checkout and allowing customers to create an account during checkout do smooth out the user experience.
WooCommerce Product Settings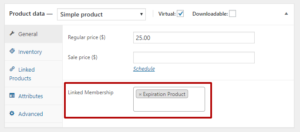 Make sure you have created at least one membership product in WP-Members.  Any products that you've created in WP-Members will be available for linking in the WooCommerce Product data.
Select "Simple product" and "Virtual".
Under "Linked Membership" select any memberships that should be assigned when the user purchases this product.
WP-Members WooCommerce Settings

If you want purchased items to be available to the user automatically, make sure that "Automatically mark membership product orders as completed" is checked.  This will set orders for membership products as complete in WooCommerce when the user has completed checkout and payment.
If you want to maintain this as a manual process (which is the WooCommerce default), leave this unchecked.