This feature is obsolete. Manage the state of individual menu items instead.
Logged in menus allow you to create separate menus to display to logged in or logged out users. It works by creating a clone of each menu area in your theme and identifying the clone as being for logged in users.
There are no "settings" for this feature. It simply creates the cloned menu area which you can edit like any other menu. However, you do need to enable this feature in the plugin's Options tab.
Prior to enabling logged in menus, here is what Appearance > Menus > Menu Locations will look like:

Once the Clone Menus setting is enabled in the plugin's Options tab, you will see that it adds a clone of any menu location that your theme supports.  This allows you to show a different menu to logged in users for any menu location.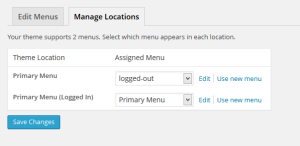 You can then set up menus for logged in and logged out states for any of these menu locations.