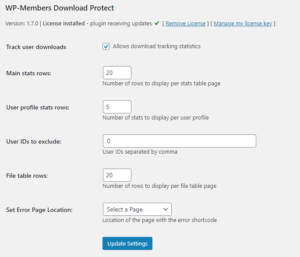 When you install the extension, it will add a "Downloads" tab to the WP-Members admin area.  This tab is for managing the extension's settings.
Track user downloads
This setting allows to you enable/disable recording of downloads by user. In situations where tracking downloads is not necessary, you can disable this setting (and the next three settings will be removed from the settings tab).
Stats table settings
If user downloads are being recorded (based on the "track user downloads" setting above), these options will allow you to customize the display of the results table.  You can specify the number of rows displayed per page on the dashboard (Dashboard > Download Tracking – defaults to 20) and the user profile (displayed at the bottom of each user profile page – defaults to 5).
User IDs to exclude
If "track user downloads" is enabled, this setting allows you to identify user IDs that you want to exclude from download stats tracking.  Values should be the numeric ID of the user and all IDs should be separated by commas (do NOT use commas in IDs that are in the thousans; i.e. 14567 should not have a comma in it).
File table rows 
This allows you to specify the number of files displayed in the file table at Media > Download Protect. The default is 20 rows per page.
Set Error Page Location
This is a page you need to create to handle any errors, such as a non-logged in user attempting to download, or if something goes wrong with the download.