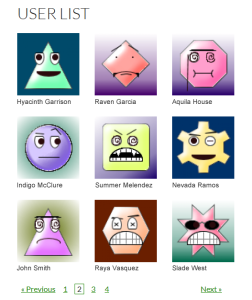 Here's a tutorial on setting up a unique layout display for the User List extension. This tutorial will show you how to arrange the users in rows/columns similar to this screenshot.
I'll be honest and tell you that this requires some php skills as you'll need to be able to do some string manipulation via one of the filter hooks.  You'll also need to have some working knowledge of CSS.  This tutorial will give you the basics to create a version of the display shown, which was done in the Twenty Fourteen theme – depending on your theme, your mileage may vary and you'll need to know CSS to work with adjusting the layout.  
This article is only available to WP-Members Support Subscribers. If you have an existing subscription, please login below. If you do not have a current support subscription, you can
purchase a support subscription here
.

To gain full access to WP-Members premium content, a current support subscription is required. You can purchase an annual support subscription for as little as $59, which provides you with access to priority support, a customer support forum, access to code snippets, and more.

Why wait? Choose your subscription option here.

[Why join?]