New in version 1.3 of the User List extension is the ability to have a detailed profile page, allowing you to have limited information in the main list with links to more detail.
The shortcode for the profile is easy to install and use. It allows for you to add specific IDs and classes that you can style with CSS to get the profile looking the way you want it.
Because the profile display is very dependent on the fields you are using and a number of other factors, the default installation of the extension does little in the way of styling the output. Here is the default user profile page using the Avatar, username, email address, first & last names, and city fields: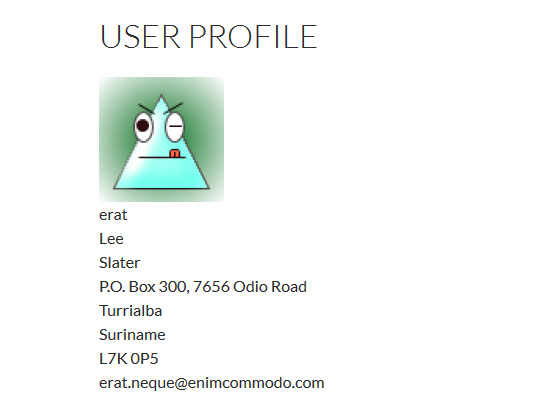 As you can see, the data is there and it is easy to implement with a shortcode. But without any CSS applied, it is not very appealing.
Here are the exact same fields with just a little CSS magic applied:
Here is the CSS that I applied to achieve this:
.entry-content .avatar {
    float:right;
    margin-top: 20px;
}

.entry-content .user_login {
    width:100%;
    height: 40px;
    background: #24890D;
    color:#fff;
    font-weight: bold;
    font-size: 24px;
    padding: 12px;
    border-radius: 8px;
	margin: 0 0 15px 0;
}

.entry-content .last_name,
.entry-content .addr1, .entry-content .zip {
	margin: 0 0 0 12px;	
}

.entry-content .first_name, .entry-content .city {
	float: left;
	margin: 0 4px 0 12px;
}

.entry-content .first_name,
.entry-content .last_name {
	font: 22px bold;
}

.entry-content .user_email {
	margin: 10px 0 0 12px;
	font-style:italic;
}