A question that comes up from time to time is how to implement moderated registration on an existing site with current users.  There is no difference between an "existing" user and a "new" user – they are all simply "users," so there isn't a way for the plugin to know who you want to activate and who you don't.
One particular problem, though, is that when you activate a user it will send the user a notification that they have been activated and if current settings are to send the user their initial password, their password will be set upon activation (thus changing an existing user's password if you activate them).
Here is a utility script available that allows you to set all users as activated.  It is a copy/paste code snippet and it will add an admin screen to set every user on the site as activated without sending the user email and without affecting their password. (If you're not sure how to use code snippets, see: How to use code snippets from the site.)
This adds a menu item under the Tools menu – Activate All Users.  Go to that screen, check the confirmation box and click submit. All users will be set to active at that point.  After you complete the process you can optionally remove the code snippet.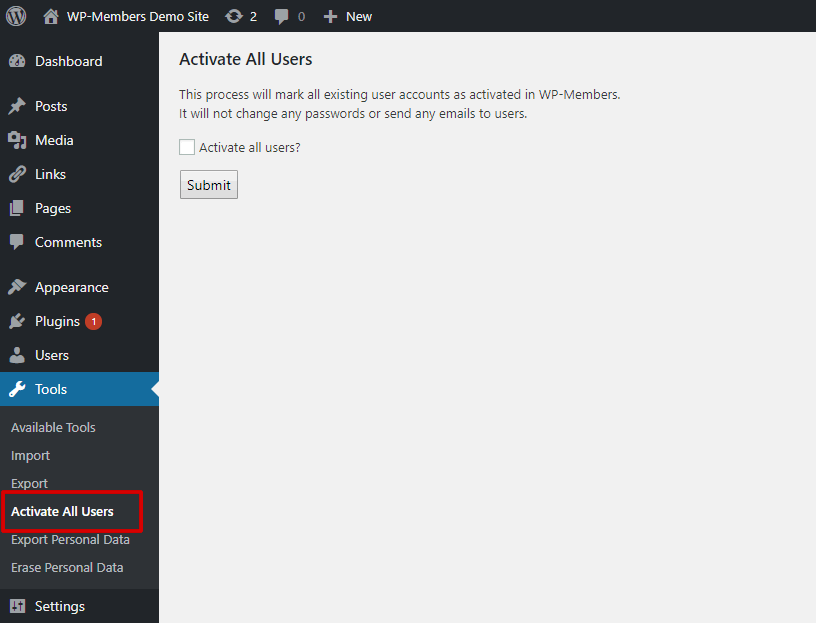 The Code:
/**
 * A drop-in code snippet to set all users on the site as 
 * "activated" (when using the plugin's moderated registration
 * setting). All existing users on the site will be set as 
 * active without affecting passwords and no email will be sent.
 *
 * To Use:
 * 1. Save the code snippet to your theme's functions.php
 * 2. Go to Tools > Activate All Users.
 * 3. Follow prompts on screen.
 * 4. Remove the code snippet when completed.
 */
add_action( 'init', 'activate_all_users_init' );
function activate_all_users_init() {
    global $wpmem;
    $wpmem->activate_all_users = New My_Activate_All_Users_Class();
}
class My_Activate_All_Users_Class {
 
    function __construct() {
        add_action( 'admin_menu', array( $this, 'admin_menu' ) );
    }

    function admin_menu() {
        $hook = add_management_page( 'Activate All Users Page', 'Activate All Users', 'edit_users', 'activate-all-users', array( $this, 'admin_page' ), '' );
        add_action( "load-$hook", array( $this, 'admin_page_load' ) );
    }

    function admin_page_load() {
        global $activate_all_complete;
        $activate_all_complete = false;
        if ( isset( $_GET['page'] ) && 'activate-all-users' == $_GET['page'] && isset( $_POST['activate-all-confirm'] ) && 1 == $_POST['activate-all-confirm'] ) {
            $users = get_users( array( 'fields'=>'ID' ) );
            foreach ( $users as $user_id ) {
                update_user_meta( $user_id, 'active', 1 );
                wpmem_set_user_status( $user_id, 0 );
            }
            $activate_all_complete = true;
        }
    }

    function admin_page() {
        global $activate_all_complete;
        echo "<h2>Activate All Users</h2>";
        if ( $activate_all_complete ) {
            echo '<p>All users were activated.<br />';
            echo 'You may now remove this code snippet if desired.</p>';
        } else {
            $form_post = ( function_exists( 'wpmem_admin_form_post_url' ) ) ? wpmem_admin_form_post_url() : '';
            echo "<p>This process will mark all existing user accounts as activated in WP-Members.<br />It will not change any passwords or send any emails to users.";
            echo '<form name="activate-all-users" id="activate-all-users" method="post" action="' . $form_post . '">';
            echo '<p><input type="checkbox" name="activate-all-confirm" value="1" /><label for="activate-all-confirm">Activate all users?</label></p>';
            echo '<p><input type="submit" name="submit" value="Submit" /></p>';
            echo '</form>';
        }
    }
}
// End of My_Activate_All_Users_Class