The WP-Members Logged In Menus Extension automatically clones your theme's menu locations to create an alternate menu for logged in state.  This extension allows you to easily create different menus for users based on their login status, for any menu location in your theme.
This extension is available to support subscribers.  For a limited time, support subscriptions include all available add-ons and extensions for the plugin as well as priority support, members only forum, and the code snippet library.
Signup today and get instant access!
Download the Extension: You must be logged in to download
Installation
This extension installs as a plugin.  You can download the installation package as a zip file.  Then use the new plugin uploader or unzip the package and FTP transfer to your plugin's folder.
Once the extension is installed, you can go to Plugins > Installed Plugins to activate.
Using the Extension
This extension does not have any settings so there is no settings page for the plugin.
Prior to activation, looking at Appearance > Menus > Menu Locations

Once the plugin is activated, you will see that it adds a clone of any menu location that your theme supports.  This allows you to show a different menu to logged in users for any menu that your theme supports.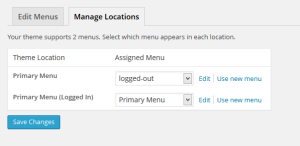 You can then set up menus for logged in and logged out states for any of these menu locations.