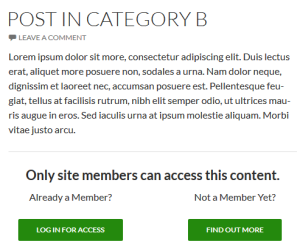 A frequent question that I receive is how to replace the plugin's default process of placing the login and registration forms with a process that takes the user to a login page (and/or registration page).
I've put together a code snippet that you can use as-is, or customize as needed in order to create a process that displays buttons that direct to a login page and registration page.  If you look at the screen shot to the left, you'll see what this process will produce.  The example shows a post with an excerpt using the Twenty Fourteen theme.
The example provides the code snippet (which you can customize) as well as some initial CSS (which you can also customize) and will explain the process used to implement this change. 
This article is only available to WP-Members Support Subscribers. If you have an existing subscription, please login below. If you do not have a current support subscription, you can
purchase a support subscription here
.

To gain full access to WP-Members premium content, a current support subscription is required. You can purchase an annual support subscription for as little as $59, which provides you with access to priority support, a customer support forum, access to code snippets, and more.

Why wait? Choose your subscription option here.

[Why join?]