As of WP-Members 3.1.0, multiple selection checkbox support is an included feature in the plugin. That makes custom implementation such as described here unnecessary for most applications. I am leaving this post here however as there may continue to be users who (1) need a high level of customization that may utilize some or all of this kind of approach, and (2) for users who may not update to 3.1+ who need this support.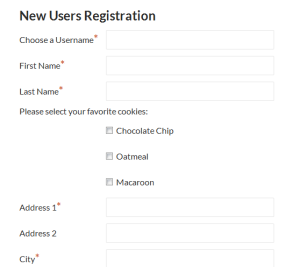 This tutorial is an extension of the tutorial on creating Multiple Selection Checkboxes.  This tutorial will add a little snippet to one of the functions in that tutorial to show you how to add a section heading to your group of checkboxes.
The end result is to have a heading for the group of checkboxes, followed by the checkboxes with the label text to the right, much like this screenshot.
This is a slightly more advanced tutorial that the previous basic tutorial.  You might try that one first.
While not overly complicated, I will work through the process step-by-step so that it is easier to understand what each section does.  
This article is only available to WP-Members Support Subscribers. If you have an existing subscription, please login below. If you do not have a current support subscription, you can
purchase a support subscription here
.

To gain full access to WP-Members premium content, a current support subscription is required. You can purchase an annual support subscription for as little as $59, which provides you with access to priority support, a customer support forum, access to code snippets, and more.

Why wait? Choose your subscription option here.

[Why join?]