The User List extension has some built in features to put div tags around the various fields. You can use CSS to manipulate the layout of these elements as needed. 
Here is a screenshot of the basic layout of the User List. The theme is Twenty Fourteen, using the Twenty Fourteen stylesheet for the WP-Members plugin and the User List Extension.  The fields displayed are some of the plugin defaults:
H2: Username
avatar
first_name
last_name
addr1
thestate
email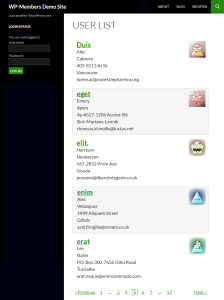 Using a little bit of extra CSS, I have manipulated the layout of the first_name/last_name fields to be next to each other.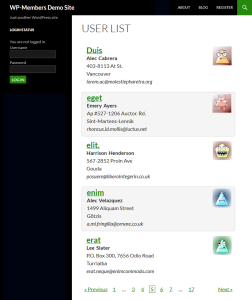 This is a breakdown of the various elements used: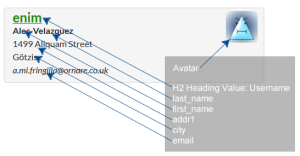 Here is the CSS that I applied:
#wpmem-ul-list .first_name {
	float: left;
	padding-right: 5px;
}
#wpmem-ul-list .first_name,
#wpmem-ul-list .last_name {
	font-weight: bold;
}
#wpmem-ul-list .user_email {
	font-style: italic;
}