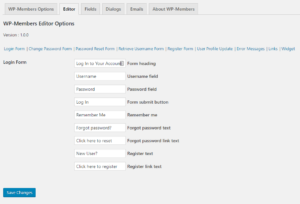 The Text String Editor extension provides a simple and easy way for you to edit all of the plugin's user-facing text strings.  This includes text that is used in the various plugin forms, various custom messages, form heading, buttons, etc.
The extension installs like a plugin and can be activated from the plugin panel.  Once activated, it adds the "Editor" tab to the WP-Members tabs.
In the Editor tab, you can set any custom text you need for the plugin.  If no custom string is set, the settings will display the default.
Download the Extension: You must be logged in to download
This extension is available to
support subscribers
.  For a limited time, support subscriptions include
all available add-ons and extensions for the plugin
as well as priority support, members only forum, and the code snippet library.
Signup today and get instant access!